Resources
Five tips and tricks for CreditXpert What-If Simulator
Many mortgage loan originators regularly utilize CreditXpert® tools such as CreditXpert What-If Simulator™ to help their clients qualify for a loan or get the best rate possible. Whether you're a super user or you just recently gained access to our software, there are some useful features you may not know about.
We recommend bookmarking this page – you'll want to come back!
1. Reduce rescore fees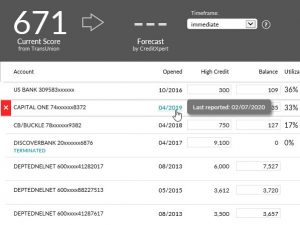 Rescore fees can add up, but with an ever-evolving market, you can't always afford to wait. Did you know the CreditXpert What-If Simulator "Last Reported" feature can be a helpful workaround? Just click the "opened" date to see when account data was last reported. Since this date is typically consistent (within a day or two) each month, you can then determine when the account is expected to report naturally.
Check out this video by Rosa Mumm, our product support manager, to learn more.
2. Simulate the impact of being added as an authorized user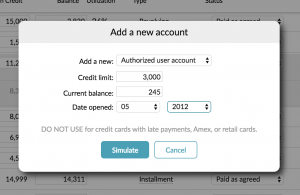 You can simulate how a borrower's credit score would change if they are added as an authorized user to a credit card. This helps you make a more informed decision on the best course of action.
Want to give it a try? Just click "Add a new account" on the righthand side and select "Authorized user account" from the dropdown menu.
3. Automatically account for scorecard changes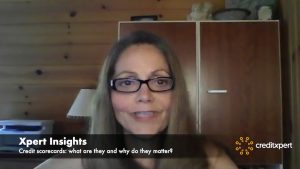 Credit scoring is complex. Among the least understood aspects are the 10 different scorecards your client can fall into within each bureau, affecting the way they're scored. To add another layer, your client can suddenly move to a different scorecard – which could lead to unintuitive score changes.
Luckily, these changes don't have to be unexpected. CreditXpert What-If Simulator accounts for switching scorecards when helping you develop a score improvement plan (and CreditXpert Wayfinder does too!).
4. Determining the effect of a new credit card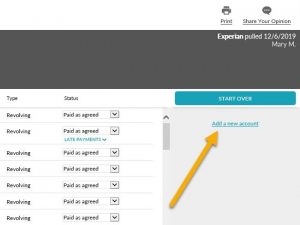 Did you know opening a new credit card could help a credit score, even if your borrower doesn't have a "thin" file? An additional account could move your client to a different scorecard, changing how all the information in their credit report is scored. It may also improve their mix of accounts and overall revolving utilization ratio.
Whether a new credit card helps, hurts or has no impact depends on the information already reported – and you won't know for sure unless you simulate its effects. Try it out with CreditXpert What-If Simulator by clicking "Add a new account" on the right and selecting "credit card" from the dropdown menu.
5. Check if a credit score is expected to drop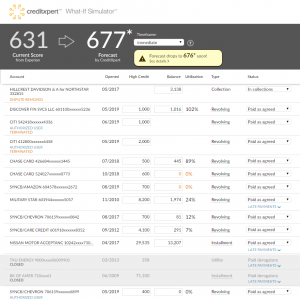 About 30% of all mortgage applicants will experience a score decline during the next calendar month due to information already in the credit report (like a recent mortgage inquiry that will start counting after the 30-day mark). Last fall we released the CreditXpert 10.2 update, which added a useful new feature to CreditXpert What-If Simulator: an automatic alert that warns users when the credit score is likely to drop within the next month.
If you don't have the update yet, you can (and should) manually check for a near-term score drop by running simulations using the "in one month" timeframe in addition to the default "immediate" timeframe. Note: Since you can only simulate the passage of time in monthly increments, it's important to know that the forecast impact of one month's time can occur at any point during the upcoming month.
We hope you can make good use out of these tips and tricks. If you want to see more, join us on LinkedIn, Facebook and Twitter.
Related Credit Insights
The enterprise-ready SaaS platform helps mortgage lenders attract more leads, make better offers and close more loans.
We're in a bit of a free fall in the market, and I think lenders are figuring out how to adjust to that. As a result, we're hearing a lot of them talking about how they plan to leverage technology like ours to be more competitive in the market. How can lenders use CreditXpert tools as a strategic growth engine?