Resources
A Sneak Peak at CXI's Home Sweet Home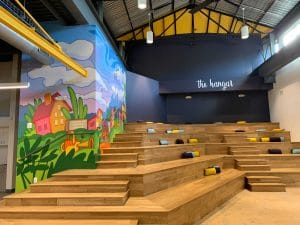 Have you heard the news? We moved! Our new office is in Baltimore's Hangar Building, a repurposed former manufacturing facility for airplane parts. Our industrial-style space has been transformed into an inspiring environment designed to spur innovative ideas. The photo on the left shows the beautiful mural painted in our new amphitheater by Baltimore artist Marshall Adams. We can't wait to share more photos of our new office soon!
Related Credit Insights
We know there is a lot to think about when purchasing a home, and knowing the fundamentals of each loan type is paramount. Check out our article to see which might be best for you.
CreditXpert, the predictive credit score platform that helps mortgage lenders extend better, more compelling financing options to every applicant, is proud to announce that NOVA Home Loans is the first lender to go live with its new enterprise platform. CreditXpert's latest offering will help lenders boost efficiency with AI, quickly compare improvement plans, track applicant progress, and manage usage through a cloud-based dashboard.