Credit Insights
A Sneak Peak at CXI's Home Sweet Home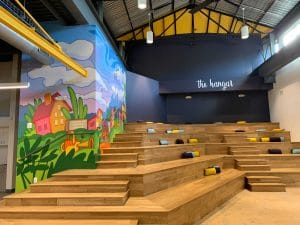 Have you heard the news? We moved! Our new office is in Baltimore's Hangar Building, a repurposed former manufacturing facility for airplane parts. Our industrial-style space has been transformed into an inspiring environment designed to spur innovative ideas. The photo on the left shows the beautiful mural painted in our new amphitheater by Baltimore artist Marshall Adams. We can't wait to share more photos of our new office soon!
Related Credit Insights
Last month I had the opportunity to attend my first MBA annual conference. What struck me most about my time in San Diego was MBA's Chair Kristy Fercho's commitment (and the collective focus of the entire industry) to tackling racial inequities in housing.
My previous two articles covered the importance of process design and designing a new purchase lending process that starts at the very beginning of the mortgage origination cycle.