Credit Insights
A Sneak Peak at CXI's Home Sweet Home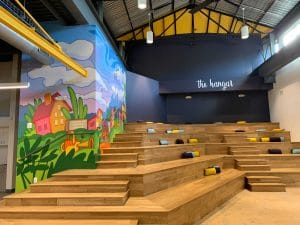 Have you heard the news? We moved! Our new office is in Baltimore's Hangar Building, a repurposed former manufacturing facility for airplane parts. Our industrial-style space has been transformed into an inspiring environment designed to spur innovative ideas. The photo on the left shows the beautiful mural painted in our new amphitheater by Baltimore artist Marshall Adams. We can't wait to share more photos of our new office soon!
Related Credit Insights
When you decide to buy a home, every bit of preparation pays off. It's a complicated and time-intensive process, and diving in blind can lead to some disastrous outcomes. The first step is to make sure your credit score is up to snuff. Let's explore why your credit score is so important, and how you can make sure it's high enough to purchase a home.
More and more agents are learning that affordability is a function, in part, of the borrower's credit score. While things like interest rates, construction costs and housing inventory are out of our control, prospective home buyers CAN do something about their credit scores.