Resources
Understanding
common misperceptions

in your borrower's credit score
One of the top reasons mortgage loans are declined is credit history, according to data from the Home Mortgage Disclosure Act (HMDA). There are plenty of misconceptions about what makes a borrower's score rise or fall.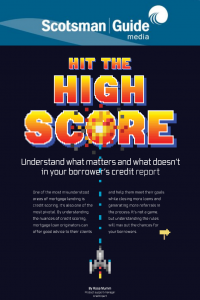 Read our article, Hit the High Score, as published in the Scotsman Guide to better understand the nuances of credit scoring. It may not be a game, but understanding the rules will help you close more loans and generate more borrower referrals.
Get the details on the top actions simulated by mortgage originators in What-If Simulator by downloading the CreditXpert Credit Score Impact Guide.
Related Credit Insights
The enterprise-ready SaaS platform helps mortgage lenders attract more leads, make better offers and close more loans.
Uncommon knowledge: Mortgage and consumer credit scores are quite different. What's different? How are each calculated? Why are there two scores?