Resources
The Bigger Picture of the 2023 Homeseeker – Credit Categories
As we move into the second half of 2023, many lenders are finding it harder to find new prospective mortgage loan applicants. Our recent research can explain that. The homeseekers we're finding in the market today are quite different from those the industry was serving last year.
We actually sent a professional consumer research firm into the marketplace to find out more about the consumers who are actively seeking a new home in 2023. The data suggests that our picture of the current homeseeker has to change change if we hope to meet their needs and win their business.
This is important to us because our mission at CreditXpert is to make homeownership more accessible and affordable for all. The way that we do that is by delivering insights that help lenders lower the cost of homeownership for consumers, via credit score improvement plans for borrowers.
That starts with looking at those consumers who are ready and willing to buy, the homeseekers.
The three types of credit categories of potential homebuyers
In the credit world, consumers fall into three categories, (a) those who do not have a credit history and don't know how to go about building one, (b) those who have a credit history but with a very low credit score, (c) those who have a basic understanding of their credit scores but who could increase those scores by taking a few steps within a 30-day period.
All of this research was aimed at consumers in this third category. We wanted to know what the consumers were looking for a home now and could actually qualify for a mortgage actually looked like. We performed similar research last year, but the results were markedly different.
Why we performed our homebuyer research
There were two reasons we chose to invest in our most current round of consumer research.
First, it's important to understand consumers and the credit mindset that they are bringing into the home buying process. It's important to have this understanding for the work we do every day. In addition, and this is the second reason we invested in this research, is that it's a big part of the value we bring back into the lending community.
In this round of research, we wanted to understand how market conditions are impacting the ways consumers shop for mortgages.
Our consumer research partner targeted consumers between the ages of 25 and 70 who had either bought a home in the past year, had refinanced in the past year, or were looking to buy a home within the next two years. This third category are the homeseekers.
This data gave us a very interesting picture of the consumers who will be in the market for the rest of 2023 and beyond.
A picture emerges of the new homeseekers
The first things that we noticed in the data that came back from the research team was that the age and ethnicity of the consumers were either in the market now or said they would be within the next two years had changed from what we found last year.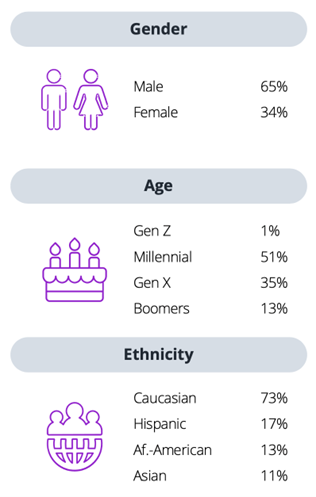 Millennials made up a significantly smaller group this year than last, while Gen Xers came in much stronger.
Baby boomers made up only 13% of the market. This has contributed both to lower loan volume, as this group definitely has the wherewithal to purchase a new home. But also to the lack of inventory. If boomers don't move up or out, new homeseekers can't move in.
When we performed similar research last year, Millennials were a much larger force in the industry. In 2022, Millennials made up 68% of the market. Responses from our current survey indicate that this year they will likely only make up 51% of the buyers. Compare that to Gen X, who purchased only 18% of the homes last year but make up 31% of the homeseeker audience this year.
We also saw a reduction in the number of Caucasians and Hispanics who are in the market for a home. That slack was picked up by Asian-Americans.
The credit scores consumers reported to us changed as well. Last year, 58% of people who had purchased a home within the past year said they had a credit score of 720 or above. This year, homeseekers are coming to market with a reported credit score of only 680.
To get a full overview and webinar of the all the collected data, click here >> 
Related Credit Insights
The enterprise-ready SaaS platform helps mortgage lenders attract more leads, make better offers and close more loans.
Uncommon knowledge: Mortgage and consumer credit scores are quite different. What's different? How are each calculated? Why are there two scores?