Resources
Our webinar with National Mortgage News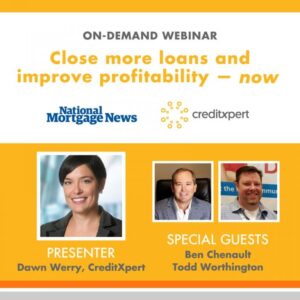 Watch our on-demand webinar with National Mortgage News!
Last month we hosted a webinar with National Mortgage News to show how lenders can close more loans and improve profitability with an expert credit process. Joining us were two special guests, Ben Chenault and Todd Worthington, who shared their firsthand experiences as mortgage industry experts who have set up systematic processes themselves. Thank you to all who tuned in!
Our webinar is now available on demand. Gather your team for a Lunch & Learn and give it a listen – we think it'll help make your 2020 even more successful! Contact us at info@creditxpert.com if you want to learn more about our pilot program.
Related Credit Insights
The enterprise-ready SaaS platform helps mortgage lenders attract more leads, make better offers and close more loans.
Originally featured in Scotsman Guide, Hidden in Plain Sight. Nudging a credit score upward, could be the difference between owning a home or not. Every applicant is more important than ever. The truth is that 71% of mortgage applicants with scores below 760 could better their score by at least one 20-point credit band within 30 days, allowing many to qualify for a mortgage. That's what CreditXpert discovered when examining 24 mil- lion mid-score credit inquiries. It's surprising how many prospective mortgage borrowers are hiding in plain sight, shielded by a credit score that is far below its potential.