Resources
New Year, New Workflow: Maximize Efficiency and Pull-through Company-wide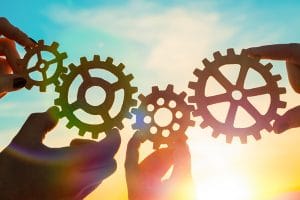 Loan consultants are always strategizing to work efficiently through their loan pipeline and keep it full, no matter what the market brings. But you don't need to do it alone; collaboration throughout your company could lead to both enhanced client service and revenue growth across your team.
This is part three of our series on achieving 2021 success with borrower care. In part one, we reviewed what the mortgage market may look like this year after the seismic events of 2020. We also explained how practicing borrower care with each client will be especially crucial in these circumstances. In part two, we suggested turning "no" into "not yet" to make a meaningful difference in your own work, outshining competitors by keeping your mortgage pipeline strong and referral business booming.
Now, in part three, we're outlining the way your whole company can practice borrower care efficiently and systematically with an expert credit process – an approach proven to help close up to 42% more loans.
What is an expert credit process?
An expert credit process is a company-wide workflow change that retains leads while demonstrating excellent customer care.
When a prospective applicant doesn't qualify for a loan, a mortgage loan originator may turn the borrower away or send them to credit repair, both of which give your lead the opportunity to go to a competitor instead. Another scenario might be that the applicant qualifies for a loan, but another firm's mortgage loan originator offered them better terms.
An expert credit process changes these outcomes by designating an internal credit specialist to the team – whether a current colleague or new hire – to work with leads who need to improve their credit scores. While the credit specialist develops a plan for the customer, the mortgage loan originator is then free to continue working through their pipeline.
How does an expert credit process work?
Here are the steps:
The applicant authorizes a credit pull. Unfortunately, due to credit challenges they don't qualify for the loan or aren't offered the best terms.
The mortgage loan originator sends the customer's file and target mid-score to the team's credit specialist.
The credit specialist works with the prospective borrower to build a personalized credit improvement plan using CreditXpert® tools, outlining actions to help them reach the score goal.
The applicant follows the step-by-step instructions, guided by their credit specialist, who keeps in regular contact.  The expert credit process opens the door for meaningful, substantive follow-up, nurturing the connection from applicant, to borrower, to satisfied mortgage holder.
After the time period defined in the plan, the credit specialist repulls the credit report. If the target mid-score goal is reached, they return the applicant's file to the mortgage loan originator or they continue to work with the borrower to make progress.
The mortgage loan originator closes the deal, and the applicant is one step closer to realizing their dream of homeownership
Setting up a centralized company-wide process to help applicants improve their credit scores not only boosts financial growth by closing a higher percentage of loans, but also goes the extra mile in delighting your customers. This dedication to borrower care allows you to stand out from competitors and enjoy continued business and referrals from more satisfied clients – leading to a successful 2021.
Related Credit Insights
The enterprise-ready SaaS platform helps mortgage lenders attract more leads, make better offers and close more loans.
As a lender, you have options when pre-qualifying borrowers for a mortgage. You can run a soft or hard credit pull. Soft credit pulls offer more benefits, increasing your chances of keeping the lead and saving you money. Sometimes a lot of money — depending the on the credit reporting agency, a soft credit pull could be just a quarter of the cost of a hard credit pull.