Resources
Incubate, Not Originate!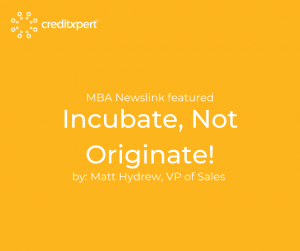 CreditXpert's Matthew Hydrew shares his expertise on closing leads in an article for the Mortgage Bankers Association. Read the article here to find out why he believes that lenders should focus on incubating, not originating, to get the most out of each lead.
Related Credit Insights
CreditXpert, the predictive credit score platform that helps mortgage lenders extend better, more compelling financing options to every applicant, is proud to announce that NOVA Home Loans is the first lender to go live with its new enterprise platform. CreditXpert's latest offering will help lenders boost efficiency with AI, quickly compare improvement plans, track applicant progress, and manage usage through a cloud-based dashboard.
"Partnering with MeridianLink to connect CRAs to our new platform means that thousands of lenders will now have access to our new platform and can more easily integrate data-driven solutions into their operations," said CreditXpert CEO, Jim Hemmer. "We know that helping borrowers with solutions tailored to their needs presents an opportunity for lenders to both improve profits and make more compelling offers."