Credit Insights
Our webinar with National Mortgage News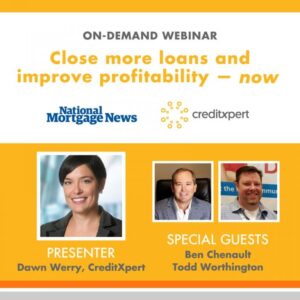 Watch our on-demand webinar with National Mortgage News!
Last month we hosted a webinar with National Mortgage News to show how lenders can close more loans and improve profitability with an expert credit process. Joining us were two special guests, Ben Chenault and Todd Worthington, who shared their firsthand experiences as mortgage industry experts who have set up systematic processes themselves. Thank you to all who tuned in!
Our webinar is now available on demand. Gather your team for a Lunch & Learn and give it a listen – we think it'll help make your 2020 even more successful! Contact us at info@creditxpert.com if you want to learn more about our pilot program.
Related Credit Insights
CreditXpert was founded 21 years ago this month with a vision of expanding homeownership by making mortgage credit scores more transparent.
Recently, CreditXpert's VP of Product, Renata Sheyner, spoke with HousingWire to discuss the ways in lenders can benefit from embracing technology in a competitive environment.