Credit Insights
Incubate, Not Originate!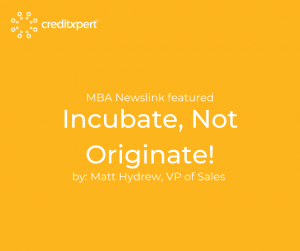 CreditXpert's Matthew Hydrew shares his expertise on closing leads in an article for the Mortgage Bankers Association. Read the article here to find out why he believes that lenders should focus on incubating, not originating, to get the most out of each lead.
Related Credit Insights
75% of potential mortgage consumers begin their search for THEIR lender as much as 5 months before they apply, They told us as much during our 2020 Consumer Survey.
One of the top reasons mortgage loans are declined is credit history, according to data from the Home Mortgage Disclosure Act (HMDA). There are plenty of misconceptions about what makes a borrower's score rise or fall.