Credit Insights
Incubate, Not Originate!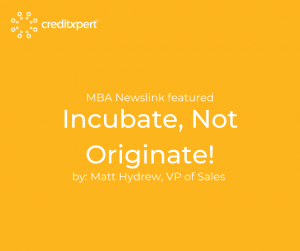 CreditXpert's Matthew Hydrew shares his expertise on closing leads in an article for the Mortgage Bankers Association. Read the article here to find out why he believes that lenders should focus on incubating, not originating, to get the most out of each lead.
Related Credit Insights
Michael Hammond interviewed CreditXpert CEO, Jim Hemmer, on the 30-minute Fintech Hunting podcast last week.
While no one knows for sure what the future holds for our industry, it's important to prepare and act with purpose. We put together a central DIY resource to help lenders do just that.