Credit Insights
Incubate, Not Originate!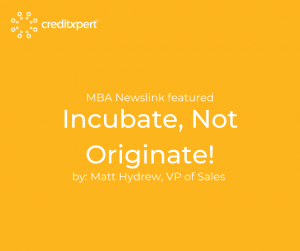 CreditXpert's Matthew Hydrew shares his expertise on closing leads in an article for the Mortgage Bankers Association. Read the article here to find out why he believes that lenders should focus on incubating, not originating, to get the most out of each lead.
Related Credit Insights
When CreditXpert Inc. was founded in 2000, the year 2020 seemed far off on the horizon. It's hard to believe this coming August will mark 20 years of supporting the American dream!
Many mortgage loan originators regularly utilize CreditXpert® tools such as CreditXpert What-If Simulator™ to help their clients qualify for a loan or get the best rate possible. Learn more about the What-If Simulator™ in this overview.